---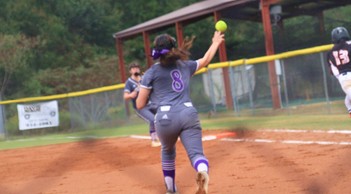 Emily Sanders throws to first after a bunt.



BCHS sought their fifth straight sweet 16 berth, opening the AA playoffs against Metter. Played in an almost constant light to steady rain, games were moved to Tuesday afternoon due to the potential impact of Hurricane Michael.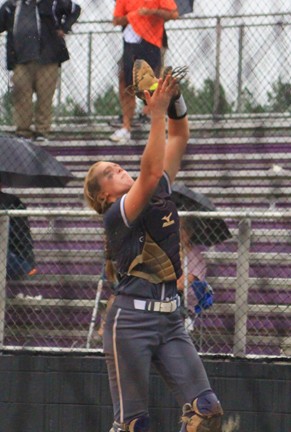 Abbey Sims squeezes a foul popup.



Tied 1-1 in game one, Abbey Sims leadoff double in the fourth started a four-run outburst. Darci Dillard had an RBI single in the fifth. Caroline Thrower walked with two outs. She came home on a two-run home run by Abbey Sims. Landa Dominy reached on an error. Riley Edge then hit her first home run in two years, a two-run shot, to clinch a 10-1 Lady Royals victory.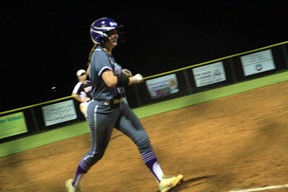 Bailey Odom smiles as she comes home after homering in game two.



She and Sims each went 2 for 4 with 2 RBI. Already up 1-0 in game two, the Lady Royals scored four in the top of the third. Bailey Odom hit a solo home run in the fourth.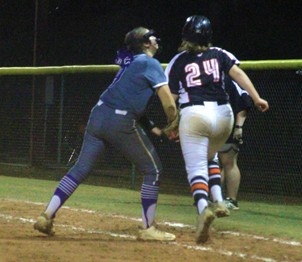 Caroline Thrower tags out a player before they reach first base.



Things appeared to be well in hand following a five-run top of the sixth. But two errors in the home half led to four Metter runs. BC though answered with three more in the seventh to win 14-4. Odom finished 3 for 4 with 4 RBI. Macey Haley went 2 for 4 with 1 RBI. Edge went 2 for 5 with a double and 3 RBI. Thrower was 1 for 2 with 1 RBI.

Bleckley travels to Harlem for round two next week. Details are TBD.



© Copyright by BleckleyProgess.com

Top of Page