---
You could almost call Friday night's matchup against Telfair County "A Tale of Two Games." For Royal fans, the first three plus quarters were the worst of times as a myriad of mistakes put BCHS into an 11-point hole. The final 8:45 were the best of times as the Royals rallied to win.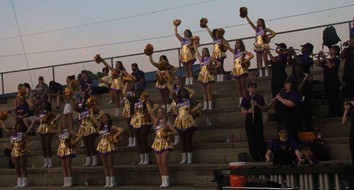 The dazzlers and band were loud and supportive throughout the night.



Leading early on a Dominic Sasser to Bryce Bailey touchdown connection, BC fumbled on their three with 5:39 left in the first. A one-yard run with 4:15 left and successful PAT tied the game.

Their next drive reached the Trojan 19 but was ended by another fumble. Treg Corner's 34-yard field goal with 7:28 left in the second put Bleckley back on top. Despite an interception near midfield with under three minutes left in the half, the Royals had a chance to add to their lead.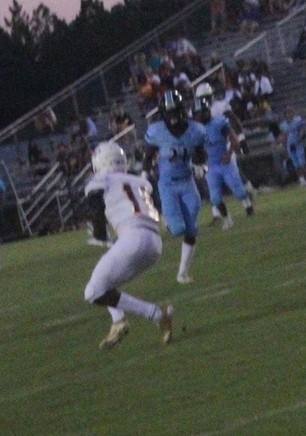 Jhamir Marshall had two catches for 37 yards.



The ball was inside the 20 thanks to a Marcus Brown reception. But false start penalties then a sack on fourth down ended the half. Telfair took the lead in the third on a 25-yard touchdown pass. The Royals again would try to answer, reaching the Trojan two with under a minute left.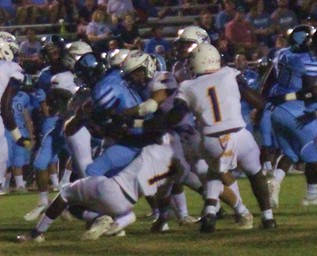 Several Royal players are in on the tackle.



But they were stopped on fourth down with 11:17 left in the game Telfair had it third and three from their own 14 but a 73-yard run moved the ball into Royal territory. They also got a conversion on fourth and one from the BC 12. TC scored with 8:45 left, making what'd been a dire situation even more so.

However, the Royals came to life. On their next possession, Sasser connected with Brown on a 50-yard touchdown strike. Brown caught the two-point conversion and BCHS was down just 21-18 with 7:52 left. The ensuing punt was blocked, Bleckley had the ball on Telfair's 45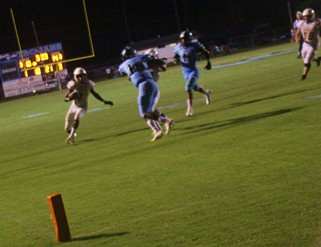 Bryce Bailey tries to get to the endzone.



Though unable to punch it in, Corner connected from 35 yards out with 3:02 left to tie the score. A fumble on the ensuing kickoff gave BC the ball at Telfair's 11. Dominic Sasser scored from six yards out with 2:12 left. Ty Williams interception in the final minute sealed the Royals 28-21 win.

Bailey completed two passes for 39 yards, rushed for 56 yards on 14 carries, and caught four passes for 54 yards. Brown had 115 yards on three catches. Williams had 35 yards on six carries.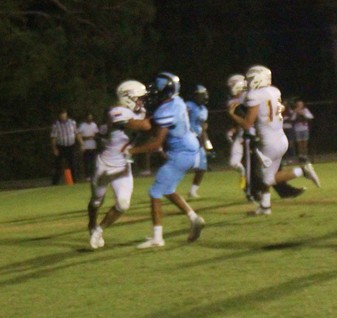 Dominic Sasser followed a block by Caden Maxwell to score the go-ahead touchdown.



Defensively, Willie Harris had 7.5 tackles including five solo and one tackle for loss. Quintavis "Scooter" Slappy had 6.5 total tackles, five solo, two for loss.

The Royals return to action September 20 at Marion County.





© Copyright by BleckleyProgess.com

Top of Page