---


With region getting close, the BCHS cheerleaders had been making adjustments to their routine, adding things. The more points they can get from different aspects of the cheerleading rubric (IE: tumbling, degree of difficulty in stunts), the better their chances of success these next two weeks.



Saturday, the squad got a chance to try some of those new things as well as have a final tuneup before region at Swainsboro High School's Rumble in the Jungle. As usual, there was a good contingent of support who'd made the trip down I-16.



BCHS didn't have their best day, but it wasn't a bad one by any means. Motions were sharp. The added tumbling went well. Jumps were good. There were timing issues with some of the stunts, part of the pyramid didn't stick. But there was nothing that couldn't be fixed with practice.



Results came back, Bleckley finished second. Five points out of first place. The squad's focus now turns to region and state. They'll use experience from Saturday, including comments by judges who have a reputation for being very tough scorers, to prepare for the competitions that count.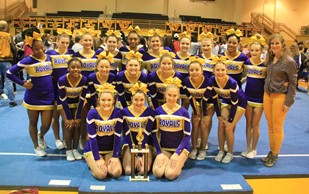 The squad with coach Heather Davis.



Region will be November 9 at Vidalia High School.



© Copyright by BleckleyProgess.com

Top of Page