---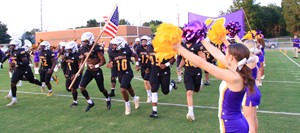 As it was American Flag Appreciation Night, the Royals ran out carrying a flag.



It was the final game before the off week as BCHS hosted Vidalia Friday night. The Royals looked for a third straight win against the Indians, following last year's regular season and playoff victories.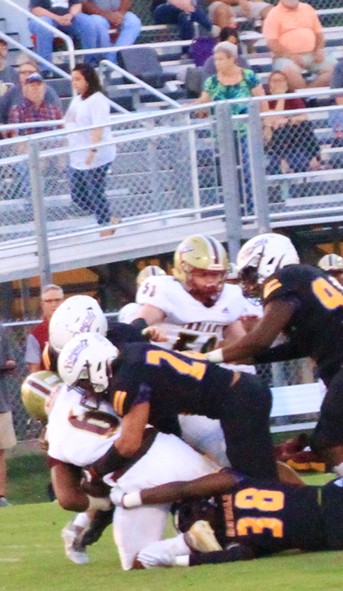 Christian Newbern with a tackle.



Eli Mullis again started at quarterback for BC. The Royal defense got a stop on Vidalia's opening possession, stopping the Indians on fourth and two from the BC. Though the Indians got the ball again near midfield, nothing came of it.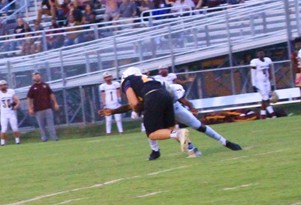 Zane Lassiter tries to fight off a defender after making a catch.



TJ Mays broke the scoreless tie in the second on a 32-yard run with 8:38 left. Vidalia got on the board via a 46-yard field goal with 35 seconds left in the half. Jahvon Butler helped add to the Royals lead in the third.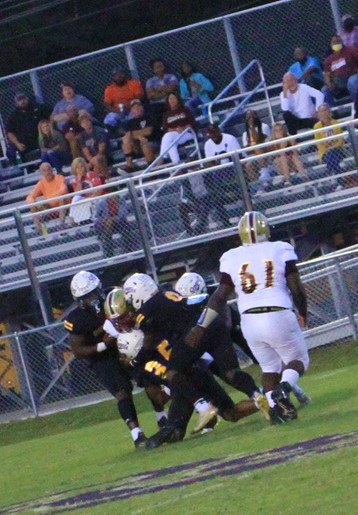 Austin Johnson is among the players in on the stop.



Butler's 16-yard run with 8:11 left made it 14-3. After another stop, Jaden Mobley returned the ensuing punt to the Indian 25. Mullis ran it in from 10 yards out. The PAT was blocked but BC led 20-3 with 4:42 left.



Citizens Bank of Cochran was Friday's game sponsor. Pictured with Touchdown Club President Britt Stewart are Matt Fordham, BJ Coody, members of the Junior Board of Directors, and and bank employees.



Vidalia took less than a minute to answer on a 71-yard quarterback draw. The Indians cut the deficit in half. They drew within seven following a 37-yard field goal with 10:42 remaining in the fourth.



The Indians appeared poised to tie the game when they recovered a fumble at the Royal 40. Bleckley's defense forced a punt. Backed up to their own five, BC went 95 yards in 16 plays, capped by a four-yard Butler touchdown run with 2:25 left.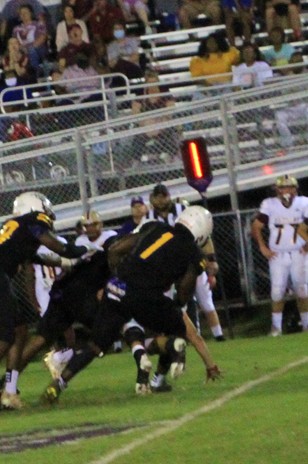 Qunitavis "Scooter" Slappy with a stop.



The point after was missed but the lead was 26-13. It proved to be the final as Vidalia failed to reach midfield on their last drive. Mullis was 9 of 15 for 110 yards passing and rushed for 54 yards on six carries.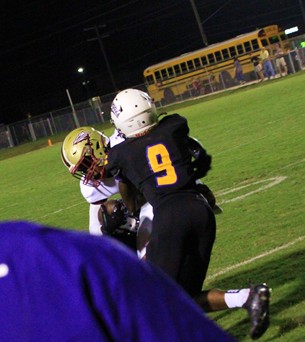 Markeze Brown forces a player to the sidelines.



Butler had 133 yards on 25 carries. Mays ran for 83 yards on 11 carries. Mobley had four catches for 54 yards.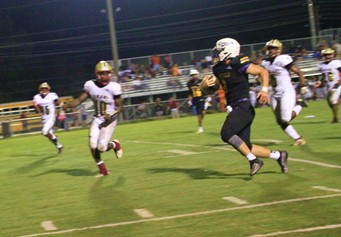 This run by Eli Mullis helped set up the game clinching touchdown.



The Royals will be off next week before traveling to Dodge County September 24.



© Copyright by BleckleyProgess.com

Top of Page