---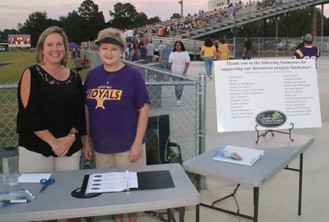 Members of the Downtown Development Authority were selling tickets for their fundraising raffle. Numerous prizes donated by local businesses can be won. Tickets are $10 each and be purchased by any DDA member.



BCHS celebrated Homecoming Friday night against the Jasper County (Monticello) Hurricanes. A win would put their record at 6-0, equaling the start under late former coach Dennis Roland in 1991.


Eli Mullis tosses a swing pass to Jahvon Butler.



The Royals were missing players due to injury including starting wideout Jaden Mobley. Things got off to a good start when Eli Mullis connected with Matthew Bland on a 21-yard catch and run. With 8:42 left, it was 7-0.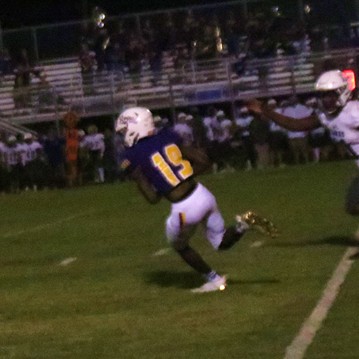 Marcus Newson runs after a catch.



The Canes threatened later in the quarter, returning a punt to the BC 40. Thanks to penalties, they reached the Royal 14. But they fumbled. Quintavious "Scooter" Slappy recovered it.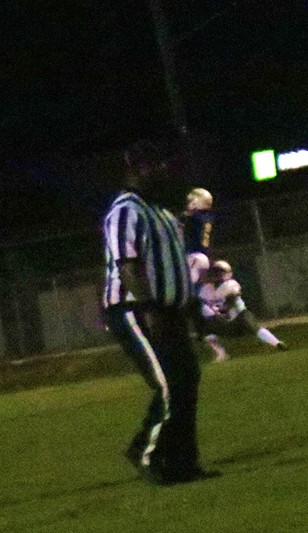 Markeze Brown goes up for an interception.



In the opening minutes of the second quarter, Markeze Brown picked off a Hurricane pass at the Royal seven. Though reaching the 29, the Royals couldn't capitalize on the turnover. Nazario Johnson recovered a fumble on the Royal 35.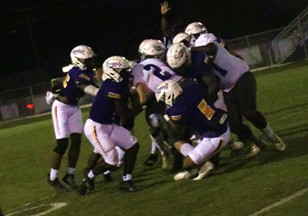 Several Royals are in on the stop.



Though reaching the Hurricane 29, BC couldn't capitalize on the turnover. The offense reached Monticello's five in the final minute but couldn't score. Jahvon Butler changed things in the third.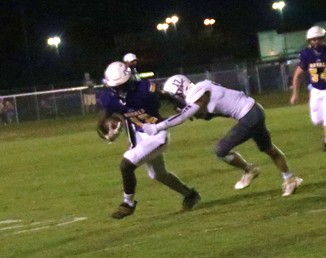 Darwin Yates tries to shed a defender.



He broke a 44-yard run to the Hurricane 3. Butler scored on the next play making it 14-0 with 10:23 left. TJ Mays added to the lead on a 52-yard scamper with 5:17 left.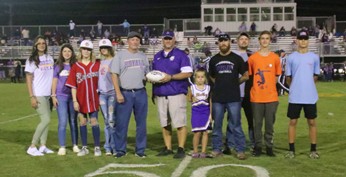 Ryals and Sons Remodeling were Friday's game sponsor. They're pictured with Touchdown Club President Britt Stewart.



Following a stop, Mays returned the next punt to the Hurricane nine. The offense though stalled on the Hurricane six. James Fordham added to the lead in the fourth on a 35-yard field goal with 8:21 left.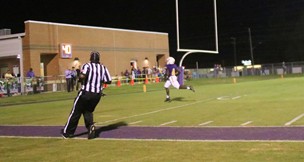 TJ Mays scores.



On the ensuing possession, David Dent recovered a fumble on the Hurricane 26. Again, BC couldn't convert. Their final points came on a 34-yard Fordham field goal with under a minute left. The Royals made it a successful Homecoming, winning 27-0.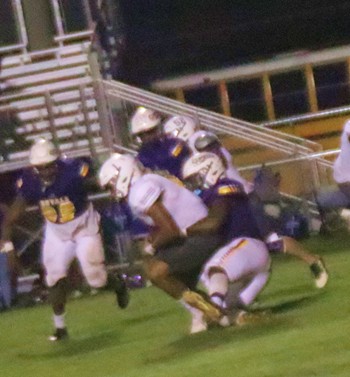 Quintavious "Scooter" Slappy with a sack.



Mullis was 19 of 29 for 124 yards. Darwin Yates caught six passes for 46 yards. Butler ran for 165 yards on 21 carries. Mays had four carries for 60 yards.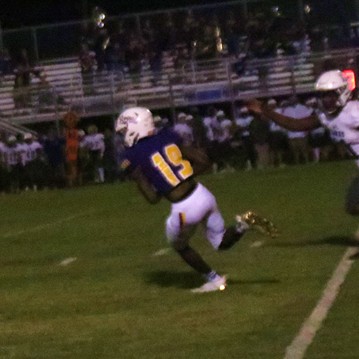 Marcus Newson runs after a catch.



Bleckley travels to Lamar County October 8. Kickoff is 7:30 pm.



© Copyright by BleckleyProgess.com

Top of Page