---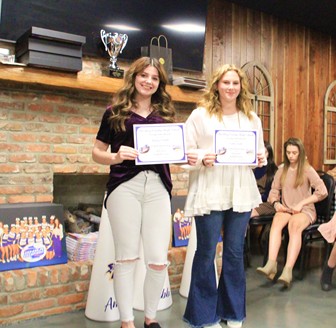 Football squad members Bailey Enright and Callie Smith with their certificates.



It was a great season for both the BCHS Football and Competition Cheer Squads. The football squad was on the sidelines as the Royals made their historic run to a first region title in school history.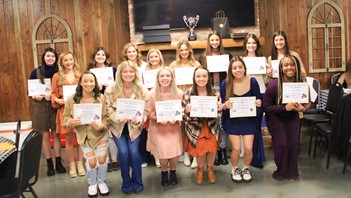 Scholar Athletes. Seniors received a special award to mark them having a 90 or better GPA throughout their academic career.



The competition squad won state, the third in program history, first since 2001-02. Both squads were celebrated Monday night at Traditions. All received letter certificates as well as devotionals.


Football squad Captain's Awards.



Per tradition, senior game squad members also got their monogrammed megaphones. Competition squad members received numerous gifts including a matted picture of them on the mat, season DVDís, as well as state champion keychains and window decals.


Football squad members (Not pictured Lindsay Martin.)



Specific awards were as follows. Scholar Athletes (both squads.) Alexis Johnson, Ansley Newman, Bailey Enright, Callie Smith, Chesney White, Graycen Phinazee, Isabelle Bennett, Jasmine Smith, Makenli Armstrong, Shanise Floyd, Kirsten Villarreal, Hailey Merritt, Amya Smith, Amiyah Thigpen.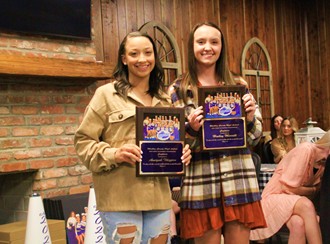 Competition squad Captain's Awards.



Captainís Awards (voted by squads.) Game Amya Smith, Amiyah Thigpen. Competition: Hailey Merritt, Amiyah Thigpen. Other presentations included gifts for seniors and gifts for coaches. Congratulations to both squads on their great seasons and all the award winners.



© Copyright by BleckleyProgess.com

Top of Page