---
It was a GHSA-GIAA matchup Friday night as BCHS traveled to Westfield. While the Hornets were celebrating Homecoming, the Royals proved to be a less than ideal Homecoming opponent.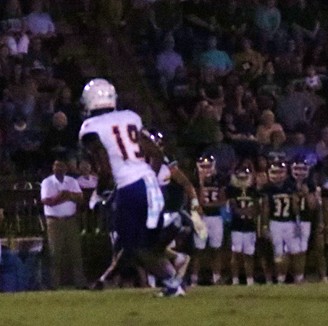 Marcus Newson.



Bleckley recovered a Hornet fumble on the Westfield 15. With ten minutes left, Rodriguez Flagg dashed 14 yards to the endzone. BC would again recover a fumble, this time Rhett Floyd recovered one on the Westfield 46.

Two minutes later, Cam Beck scored from 36 yards out as the early lead grew to 14-0. With 4:20 left in the first, Kam Everett connected with Iverson Baker on a 38-yard touchdown reception.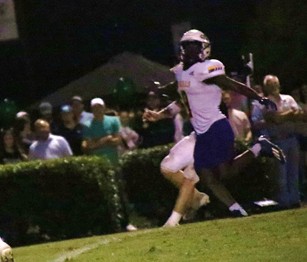 Marcus Newson.



Everett would get his legs involved, going 56 yards in the final minute to score. BC led 28-0 after one quarter. In the second, Bleckley recovered their third Hornet fumble of the half on the Westfield seven.

Jeremy Brown's three-yard touchdown run with 6:57 left made it 35-0. However, the score would be 35-7 at halftime as Westfield got a one-yad touchdown run in the final three minutes of the half.

In the third, Flagg got his second rushing touchdown of the night with 7:02 left. Westfield got a touchdown pass with under three minutes left but missed the point after.


Xavier Anderson with a tackle.



The final score of the game came in the fourth when Iverson Baker returned a Hornet pass 20 yards for a pick six. The Bleckley defense forced four turnovers en route to a 49-13 win.

Everett was 14 of 21 for 168 yards with one touchdown, one interception. He also rushed for 56 yards. Beck ran for 93 yards on eight carries. Flagg rushed for 54 yards on eight carries. Marcus Newson caught two passes for 57 yards. Markeze Brown caught six passes for 50 yards.

Region play begins October 6 at Dublin. Kickoff is 7:30 pm.



© Copyright by BleckleyProgess.com

Top of Page